Early Families of Waterborough, Maine
Early Families of Waterborough, Maine provides genealogies of 145 separate families, most of whom were there by 1790. The nucleus of settlers was from or around Brentwood, NH starting in the late 1760s. Others in the early movement came principally for lumber from Berwick, ME and Somersworth, NH. Geographically the town developed into separate identities, although Old Corner originally was the political and religious center of town. The easiest route from the south was the extension of what is now Federal Street from Alfred [then Sanford] near Shaker Pond. Some of the most prominent families, who have the strongest coverage in the book, were the Smiths, Carlls, Chadbournes, Hamiltons and Bradeens. As with others in this series the genealogies follow families who remained in Waterborough up to those born circa 1900.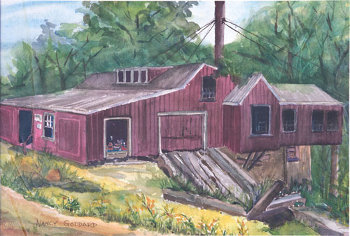 "The Mill" painted by Nancy Deering Goddard
The book is dedicated to Jim Carll and Linda Hanscom, leaders of the Waterborough Historical Society who have aided in the books content and authenticity from the beginning.
The price of the book (after an early discount), which is hard-covered, over 640 pages in length and fully indexed, is $65.00, plus tax ($3.58) for Maine residents only. Postage and handling is an additional $7.00.
The author writes in the preface: If there was one family that occupied the most of my research and writing time it was the Smiths, especially Capt. John Smith, himself. My introduction to the Smith family in this book explains the difficulty in writing, even constructing their genealogies. With the Smiths I needed to not only to break down the fallacy of the origin of Capt. John Smith, but then to prove their relationships to one another both in Brentwood, NH and in Waterborough, itself. The writing of the Smith genealogies has been both exciting and perplexing.
Please click here for an order form you can print out.
Other Books by Frederick R. Boyle
Early Families of Sanford-Springvale, Maine (1989)
Later Families of Sanford-Springvale, Maine (1995)
Early Families of Shapleigh and Acton, Maine (2002)
Early Families of Alfred, Maine (2006)
Early Families of Lyman, Maine (2017)
Early Families of Buxton, Maine (2022)
The settlement of Buxton began in the early 1750s with many families moving north from Biddeford and Saco. This town on the Saco River was to attract many families who prospered from the growing mills and lumber industries. Rev. Paul Coffin, a Harvard College graduate, arrived in 1761 to form a new church and keep an excellent record of baptisms and marriages.. Buxton is blessed with thorough vital records providing added authority to this book which was just published (June 2022).
New Publication planned by Frederick R. Boyle
Early Families of Hollis and Dayton, Maine