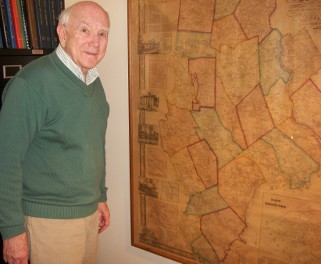 Fred Boyle at the Springvale Public Library
Photo courtesy of the Sanford News
Frederick R. Boyle, a native of Boston, Mass. grew up in nearby Medford. He has degrees from Colby College (B. A.), Boston University (M.A. in Ed.), and Harvard University (C.A.G.S.).
A retired High School teacher he spent his last twenty years at Lexington High School, where for seven years he was Director of the Education Without Walls program. He and his wife, the former Barbara Folsom, retired to Springvale, Maine from Reading, Mass. in 1985. His daughter, son-in-law and grandson live in Waltham, Mass. providing him another incentive for going to Massachusetts to visit and do research.
From 1985-2005 Boyle was a Certified Genealogist through the Board for Certification of Genealogists in Washington, D.C. Previous to this he was a Certified Genealogical Record Searcher through the same organization. Since retirement from teaching he has authored nine books, three of which were privately published. He is still an active professional genealogist with an active clientele. From 1985-2011 he was also a trustee of the Springvale Public Library where he served as an advisor for its extensive genealogy collection.
As a Professional Genealogist he specializes in searches of families in Maine, New Hampshire and Massachusetts. He is a member of the New England Historic Genealogical Society and the Maine Historical Society. Rate: $35.00 an hour, clients reimbursing for photocopying and postage.
New Publication Planned

Early Families of Hollis and Dayton, Maine
This new book in Fred Boyle's Early Families series is in process.
Check out the details.


Books by Frederick R. Boyle
Early Families of Sanford-Springvale, Maine (1989)
Later Families of Sanford-Springvale, Maine (1995)
Early Families of Shapleigh and Acton, Maine (2002)
Early Families of Alfred, Maine (2006)
Early Families of Waterborough, Maine (2012)
Early Families of Lyman, Maine (2017)
Early Families of Buxton, Maine
The settlement of Buxton began in the early 1750s with many families moving north from Biddeford and Saco. This town on the Saco River was to attract many families who prospered from the growing mills and lumber industries. Rev. Paul Coffin, a Harvard College graduate, arrived in 1761 to form a new church and keep an excellent record of baptisms and marriages.. Buxton is blessed with thorough vital records providing added authority to this book which was just published (June 2022).

Other books
Genealogy of the Folsom Family, Vol. IV (1989). Available through Charles H. Folsom, Treasurer Folsom Family Association, 434 Southfield Road, Shreveport, LA 71006-2214. $100.00, postpaid.
Hatevil Nutter of Dover, NH and his Descendants (1997). Available from Jan Nutter Alpert, 137 Victoria Drive, Hilton Head Island, SC 29926; e-mail JanAlpert@aol.com. $45.00, postpaid. Hardcover, 438 pages including an index.
Hatevil Nutter of Dover, NH and his Descendants, Part II (2011), 183 pages. Also available from Jan Nutter Alpert on CD. $10.00, postpaid. A few hardcover books are available at selected libraries.