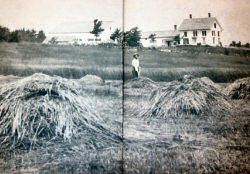 Early Families of Shapleigh and Acton, Maine (2002)
provides genealogies of about 250 separate families of these rural York Co. towns. The time frame carries a family from its arrival in Shapleigh or Acton, many prior to 1790, to the births of children born in those towns about 1900.
The book is hard-bound, 895 pages in length, fully footnoted, with an all-name index. $65.00, $3.58 tax for Maine residents, $6.00 postage and handling.
Other books by Frederick R. Boyle
Early Families of Sanford-Springvale, Maine (1989)
Later Families of Sanford-Springvale, Maine (1995)
Early Families of Alfred, Maine (2006)
Early Families of Waterborough, Maine (2012)
Early Families of Lyman, Maine (2017)